Thinking of Downloading Pirated Fonts? Here's What You Need to Know
Albemarle PR may earn a small commission for our endorsement, recommendation, testimonial, and/or link to any products or services from this website. Your purchase helps support our work.

This guide is for designers and business owners who may be unaware of the repercussions of downloading illegally distributed fonts.
What Are Pirated Fonts?
Fonts copied and distributed without permission of the original creator and proper license are known as pirated fonts. Despite likely having no ill intentions, downloading fonts from shady sources online or from people you know opens you up to security, legal, and other issues.
Methods Scammers Use to Spread Illegal Fonts
Font piracy is a time-consuming problem for font creators to manage. Most creators sell their fonts across multiple sites to reach a broad audience. Reputable font marketplaces implement a thorough verification process to guarantee that individuals seeking to sell fonts on their platform are the original creators and possess the proper authorization.
Unfortunately, some individuals use deceptive practices to steal fonts or produce counterfeit versions.
Here are some examples of how font scammers source illegal fonts:
Direct Copyright Infringement
They acquire fonts from reputable websites, whether as freebies or at discounted prices and subsequently share or resell direct copies without permission.
They might distribute renamed font files with font features identical to the original or missing parts.
Misrepresenting Identity/Branding
They might take fonts from many creators, offer them as a bundle, and misrepresent themselves as authorized sellers.
They might represent themselves as the actual font creator by copying their product images, product text, and business branding images.
Illegal Access and Distribution
They hack a website or online file storage controlled by the creator or legitimate customer.
A dishonest employee could steal font files from inside a company and sell them to scammers.
They hack the accounts of legitimate font customers and download copies of fonts.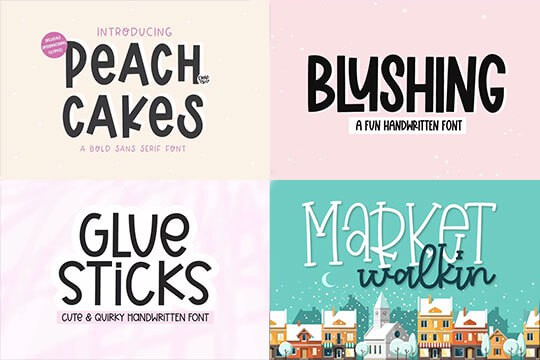 MEMBERSHIP DETAILS
Font Bundles offers the option to purchase individual fonts or bundles. However, if you plan to buy many fonts, you will benefit from joining one of their three Plus memberships. Learn more
What Are the Risks of Downloading Pirated Fonts?
There are numerous sources available on the internet to download fonts quickly. However, it is crucial to understand the necessary precautions to avoid downloading pirated fonts.
Financial and legal consequences
A commercial license is required to produce tangible or digital designs that promote a business or service and situations where there is financial gain. Although we will not discuss the different types of licenses, as the terms vary by the font designer, you should be aware that illegal distribution or use without a proper license constitutes copyright infringement.
Brand and reputation damage
Font designers pour extensive time, effort, and skill into crafting quality fonts. Circumventing proper licensing affects their livelihood and ability to develop future high-quality fonts. A willingness to commit font theft and illegitimate shortcuts erodes credibility and standing. It reflects poorly on a brand's ethics and professionalism.
They may contain malware
Font files from suspicious sources can potentially exploit software applications and operating system vulnerabilities. Upon inspection of a font file, it may appear to have the appropriate icon and file extension. However, opening or using an infected font file (or other files bundled with a font download) can trigger the execution of malicious code. These files can install malware such as viruses, Trojans, spyware, and ransomware.
Examples of what infected font downloads can cause:
allow an attacker to gain control of your computer
monitoring of activities and keylogging that steals sensitive information
manipulate text on computer, browser, and documents
computer performance problems and crashes
Lack of responsibility and customer service
Customer Service is Nonexistent
A legitimate font seller will provide customer service if you have a technical issue with a font. They will assist you with a solution if a font file is corrupted or not functioning as expected.
No Font Updates
Font designers may release bug fixes and improvements that enhance the quality of their fonts over time. Updates may add support for languages, new glyphs, and characters. New font styles (italics, condensed, rounded, etc.) that expand the font's usability are often included in updates.
No Legal Coverage or Recourse
You will have a purchase history with license and usage rights information when downloading fonts from a trustworthy source. This is essential for legal protection if you are accused of copyright infringement or unauthorized font distribution.
Over 7 million ready-to-use graphics, cutting files, embroidery files, and fonts.
650,515 high quality Print On Demand (POD) assets.
139,248 fonts for you to download without limits.
7,325,911 amazing graphics.
47,714 embroidery designs.
209,093 cut files for Silhouette and Cricut.
Sign up for a FREE TRIAL and get access to 10 downloads absolutely free.
* Renews at $9/month. You can cancel anytime.
Sign up for Yearly ALL ACCESS for $59.88/year (normal price $348)
* Renews at $59.88/year. Look for "Upgrade Now" button at top of home page.
Where Are Pirated Fonts Found?
The widespread availability of pirated fonts on numerous online platforms presents a significant challenge in combating copyright infringement.
Scam shops:
Some individuals might open shops and resell fonts without obtaining proper permission or misrepresent themselves as the original font designers.
File sharing and torrent sites:
Users of popular file hosts and torrent repositories might share links to pirated fonts.
Online forums:
Graphic design or font forum members might share links to stolen fonts via private messages or posts.
Social media and video streaming sites:
Users might share links in direct messages or comments on sites such as Facebook, Instagram, TikTok, and YouTube. Individuals create fake accounts to misrepresent themselves as the original font designers or friendly font enthusiasts.
People You Know:
Sharing fonts with others without proper licensing is considered a violation of font usage rights.
Top Red Flags of Scam Sites
First, you should be aware of common red flags that may indicate that someone is selling or sharing pirated fonts. Here are some of the most common things to keep an eye out for before downloading fonts:

Licensing and Policy Red Flags
Lack of licensing information that explains font license terms, number of users, etc.
No explanation of the refund/exchange policy
Suspicious Products and Pricing
Premium fonts that are listed for sale at extremely low prices, or even for free, when other sites have them listed for much higher
Lack of font previews
Inconsistent design style of fonts, preview images, and descriptions
Comments and product reviews are disabled
Shady Seller Practices
Spammy or aggressive marketing, pop-ups, redirects, and an excessively high volume of advertisements
One seller offering huge font collections
Missing contact information for font designer
Lack of cohesive branding, social media presence, and product reviews
Questionable Security
Download links go to a third-party file host rather than the official font site that stores your purchase history
Does not have "https" in the URL and a padlock icon that shows that data is encrypted
Requesting a form of payment other than standard options like PayPal or major credit cards
Best Sites for Downloading Fonts
When sourcing commercial-use fonts, we have found some favorite font sites that make the process easy and affordable. These trusted and preferred sites have an extensive selection of cheap fonts for crafters, educators, and small businesses. We love the selection of fonts created by independent designers and their licensing terms.