Middle-School Font Pairings with Font Bundles Plus
Albemarle PR may earn a small commission for our endorsement, recommendation, testimonial, and/or link to any products or services from this website. Your purchase helps support our work.

In this post, we have rounded up cute middle-school font pairings that will bring joy and inspiration to your classroom projects. Save time by using these teacher font combinations to create lively printables, classroom decorations, or branding your TPT store.
Font Bundles Plus Subscription
With a Font Bundles Plus subscription, you can access a selection of over 12,000 fonts. Weekly additions of new teacher-friendly fonts guarantee that you will always have access to trendy font downloads for your classroom projects.
Fonts available for download from the Plus library include commercial-use licenses. You can use the fonts for TPT designs, school branding, apparel, and other monetized projects.
The Font Bundles Plus library also features some of our favorite font creators, like Blush Type Co., known for their adorable selection of teacher fonts.
Moonshine Mountain
Bring lively personality to your classroom designs with the Moonshine Mountain font. This handwritten all-caps serif has playfully exaggerated, uneven letterforms with fun ligature connections.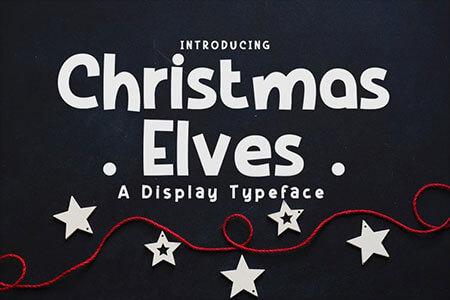 Christmas Elves
Make classroom designs stand out with Christmas Elves, a bold sans serif font. It features uneven, handwritten-style characters. Its chunky letters add energy and a bubbly personality, perfect for engaging students' curiosity and imagination.
Hello Mr. George

Create cute and quirky crafts full of personality with Hello Mr. George, a retro typewriter-style font. This friendly vintage font gives designs a handcrafted, homemade feel. Hello Mr. George also complements many other fonts, making it highly versatile and easy to use.
Rocket Pencil

Rocket Pencil has a modern, graphic novel style with an uneven baseline and bold, angular letters that create a lighthearted, silly tone. The font brings a sense of action and makes kid-friendly designs pop off the page.
Double Rainbow

Enhance your designs with the charming font duo Double Rainbow. It features a friendly cursive font with tidy loops. Pair it with the complimentary handwritten doodle font that evokes the natural variation of a tween girl's handwriting. Together, they are an excellent choice for personal and youthful designs.
Blushing

The funky, playful font Blushing adds bold visual interest to middle school designs. With its whimsical personality, Blushing pairs well with script fonts and brings a lively style to teacher projects.
Best Sites for Downloading Fonts
Enjoy the benefits of saving time, stress, and money on thousands of commercial fonts with our list of trusted sites for downloading fonts.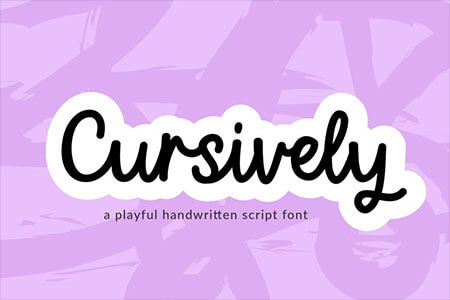 Cursively
Cursively has a friendly, relaxed handwriting style. Subtle variations and imperfections give it a natural, carefree feel. With its laidback vibe, Cursively is an ideal font for classroom designs requiring a fun middle-school pairing.
Little Lovelies
With its playful, uneven letters and heart embellishments, the handwritten font Little Lovelies exudes warmth, whimsy, and handcrafted charm perfect for middle school designs.
Elfie

Turn up the charm of classroom projects with Elfie. This monoline script font features smooth strokes, making this handwritten font easy to read for younger readers. It is an excellent choice for worksheet headings and classroom posters.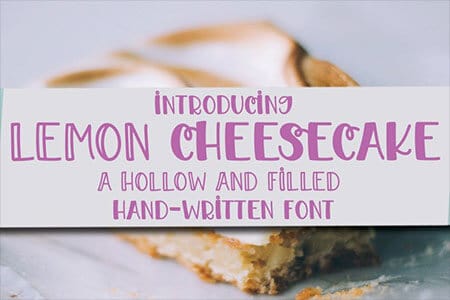 Lemon Cheesecake

Lemon Cheesecake has a playful, handwritten style that mixes outlined letters with shaded ones for a handcrafted look. With its whimsical, personal touch, this cute font is ideal for designs needing a hand-penned style.
Flirty & Fantastic
The pairing of Flirty and Fantastic creates a playful middle-school font duo. Flirty is a balanced and clean hand-brushed style font. Fantastic is a gracefully designed script font with smooth and flowing loops. They are perfect for enhancing designs that need a touch of elegance.
Roller Skates

Roller Skates is a fun middle school font with mismatched letter heights. Its youthful energy and whimsical style are perfect for creating engaging designs that appeal to adolescents.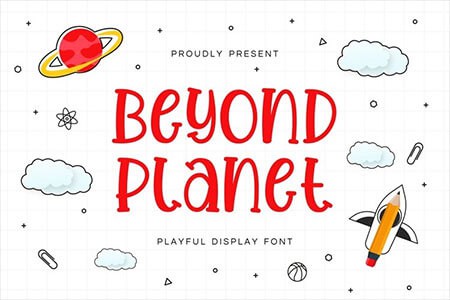 Beyond Planet

Beyond Planet features playful, rounded serifs with uneven strokes. This playful middle-school font compliments a variety of fonts, making it a must-have in your collection.
Cute Font Bundle Deals
Save on popular teacher fonts by purchasing discounted font bundles.