Getting Started with Teachers Pay Teachers
Albemarle PR may earn a small commission for our endorsement, recommendation, testimonial, and/or link to any products or services from this website. Your purchase helps support our work.

Teachers Pay Teachers is an online marketplace for educators to collaborate and sell resources. There are over 4 million members and 2.4 million resources. You'll find lesson plans, printable activities, classroom decor, games, fonts, clipart, and more.
Teachers Pay Teachers Membership
There are three levels of membership for teachers: Standard, Seller, and Premium Seller.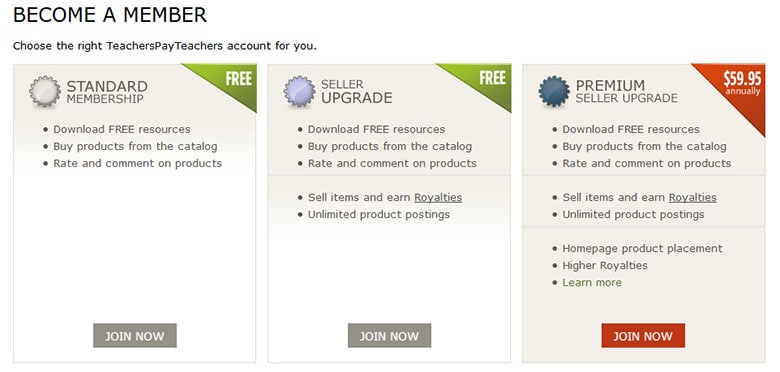 1. Standard Membership
Use this option if you're interested in purchasing products created by others. It's free.
2. Seller Upgrade
You'll get the same benefits as the Standard Membership and have the option to open your own TPT shop. For products that you create, you'll receive a 60% commission. Each transaction will incur a $0.30 transaction fee. Opening a basic Seller account is free. Transaction fees are automatically subtracted from your commission.
3. Premium Seller Upgrade
With a Premium Seller Membership, you pay an annual fee of $59.95. You will receive an 85% commission on products that you create. For transactions that are $3 or more, you will not pay a transaction fee. However, for transactions that are under the $3 minimum, there is a $0.15 processing fee for each item in a buyer's cart.
You can upgrade from a regular Seller membership to a Premium Seller at any point during the year. Your previous earnings will not be adjusted to reflect the commission change.
Signup for a Teachers Pay Teachers Account
If you are not a teacher, you may still be eligible to become a seller on Teachers Pay Teacher. When you complete your profile, you'll be asked to identify more about yourself.
Seller Payment
Payments are processed through PayPal. You'll want to make sure you enter payment information when you open your shop to prevent delays. Monthly payments are sent within 21 days of the last day of the previous month.
Create Products
After you open your Teachers Pay Teachers store, you will need to upload a free product.
Parts of a TPT Product
Cover Image: This is the image that will appear in the search results. It's also the first image that will display when a shopper views your product page. At a glance, a shopper should be able to get a clear idea of what your product is by reading the cover image text.
Sample Preview Images: These are optional but they will help provide shoppers with an idea of how you have your product formatted.
Terms of Use Page: Include information about how buyers can use your product.
Credits Page: Many of the resources that you use will require that you provide credit. For example, the clipart that you use may require a credit unless you purchase a no-credit license. This is also where you can thank anyone that you've collaborated with to create your product.
Contact Page: You might not need a separate page for your contact information if you're able to include it somewhere else in your product. Make sure you include your email address, links to social media pages, and links to your shop and/or website.
Fonts and Clipart
As you create products, you'll want to use fonts, digital papers, and clipart that are approved for commercial use. You are earning an income from selling on TPT.  You must buy required commercial use licenses unless the resources specifically say they are approved for products that you sell on TPT. If you plan to sell your products through your own site, Shopify, Etsy, or another e-commerce solution, you will need to purchase commercial use resources. If the resources that you purchase don't include a copy of the terms of use, make a digital copy from the site where you purchased them.
Software & Apps
Dropbox
We recommend using Dropbox to store backups of your resources and product files in case your computer crashes.
Microsoft Word or PowerPoint
Many teachers use Microsoft Word to create printable products. With PowerPoint, you can create templates and reuse them for each page of your product. It's also easier to move clipart around using PowerPoint.
Photoshop and Illustrator
If you'd like to create your own graphics, we recommend investing in graphic design software. Adobe offers discounts for teachers.
See also…
+ How to Customize Your TPT Shop
+ How to Drive Traffic to Your TPT Shop