Get Crafty with These Adorable Font Duos: Top Picks for Summer 2023
Albemarle PR may earn a small commission for our endorsement, recommendation, testimonial, and/or link to any products or services from this website. Your purchase helps support our work.

The Joy of Font Pairing
Welcome to the delightful world of adorable font duos! Whether you're crafting a fun vinyl project with your cutting machine or designing a whimsical logo, font duos add that special touch of magic. Let's dive into some of the most adorable font duos that will take your designs to the next level.
Finding Your Perfect Font Duo: A Creative Adventure
Finding the perfect font pairing requires understanding, experimentation, and a sprinkle of magic. Here's how to find your perfect match:
1. Embrace the Emotion
What feeling do you want to convey? Is it love, joy, or excitement? Choose fonts that resonate with the emotion of your project.
2. Play with Combinations
Experiment with different pairs and color combinations. Sometimes, the most unexpected duos create the most delightful results.
3. Seek Inspiration from Our Adorable Font Duo Examples
Look at designs that make your heart smile. We have selected some top-selling adorable font duos to inspire your creativity.
Unleash Your Creativity
Font duos add charm, joy, and a touch of the unexpected. Whether you're a seasoned designer or just starting your creative journey, these adorable font duos are here to make your projects sparkle with delight.
So go ahead, get crafty, and let these enchanting font pairs inspire your next design adventure. The world of adorable font duos is waiting for you, filled with joy, creativity, and endless possibilities.
Here are some of our top picks:
1. Blinky Darling Duo
2. Farmhouse Pumpkin
3. Beautiful Wildflower Duo
4. This Pretty Summer
5. Love Mama
6. Marshmallow Duo
7. Bee Kind Duo
8. Family Farmhouse
9. Story Love
10. Camila Ashton
11 Pinky Melon
12. More Summer
13. Lovely Mood
14. Sunshine Olivia
15. Sunshine Flower
16. London History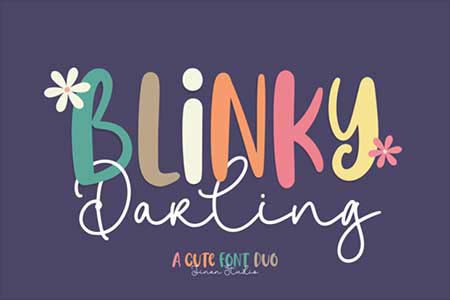 Blinky Darling Duo by Jinan Studio
Blinky Darling is a playful font duo that pairs a loopy and fun script with a whimsical handwritten sans font. This adorable font duo is perfect for adding a touch of joy to your creative projects.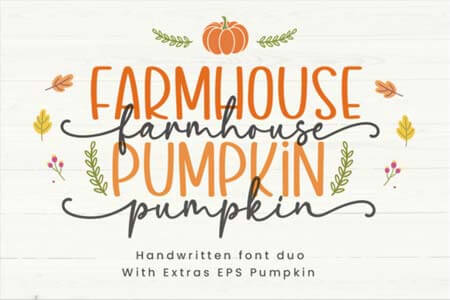 Farmhouse Pumpkin by Manjali Studio
Farmhouse Pumpkin is an adorable and delightful duo of handwritten fonts, including a sans and script style. With its casual charm and playful personality, it is the ideal choice for crafting cozy autumn designs.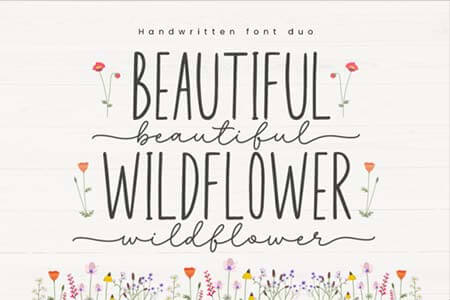 Beautiful Wildflower Duo by Manjali Studio
The Beautiful Wildflower font collection offers a harmonious duo of fonts that perfectly complement each other. Whether used together or separately, these fonts are the ideal choice for infusing your crafts with a stylish and joyful touch.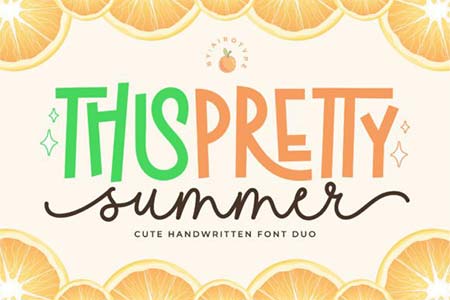 This Pretty Summer by Airotype
Make your projects pop with Pretty Summer. This delightful font duo, featuring lively and energetic characters, is the ideal choice for adding a touch of fun to your designs.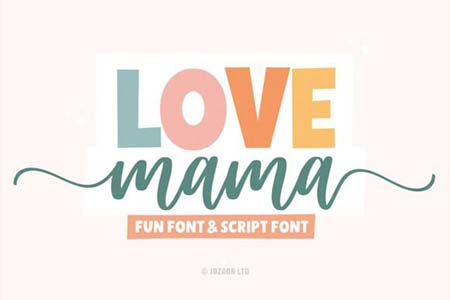 Love Mama by Jozoor
Meet Love Mama, a delightful contemporary font duo that pairs a charming script with a bold sans serif. Whether you're crafting t-shirts or working on feminine branding, Love Mama is a friendly and versatile choice that will make a wonderful addition to your font collection.
Best Sites for Downloading Fonts
Enjoy the benefits of saving time, stress, and money on thousands of commercial fonts with our list of trusted sites for downloading fonts.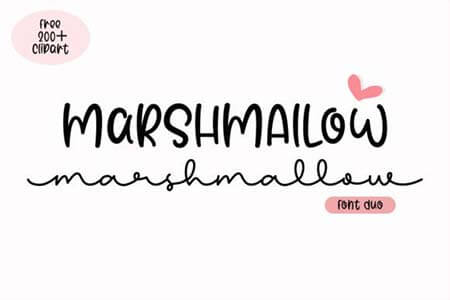 Marshmallow Duo by Fillo Graphic
Marshmallow is a lighthearted and cheerful font duo that is perfect for designing fun projects. This charming font pair features a handwritten sans serif and a script font with smooth and graceful letterforms.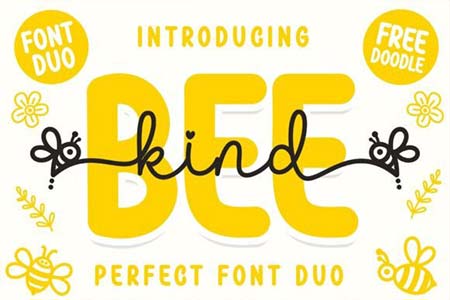 Bee Kind Duo by Hoperative Design
Add a touch of nature's charm to your designs with Bee Kind. This adorable font duo includes an elegant script font that is embellished with charming bee-themed glyphs. It is an ideal choice for garden labels, honey packaging, or any project that craves a whimsical touch.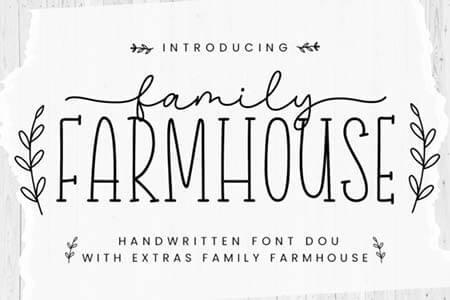 Family Farmhouse by Manjali Studio
Family Farmhouse is a cheerful font duo that combines a rustic farmhouse script with a friendly handwritten serif. Perfect for farmhouse-style crafts, this pairing brings a touch of warmth and charm to any project.
Story Love by Jinan Studio
Add warmth and friendliness to your designs with Story Love. This font collection includes a choice of a simple sans serif or a stylish option with heart embellishments. The whimsical script includes glyphs with romantic heart glyphs.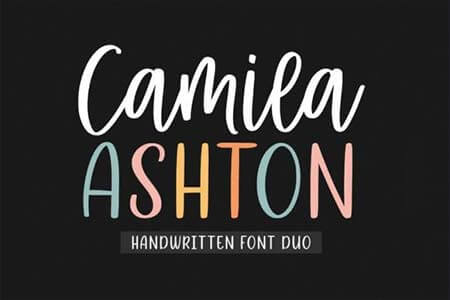 Camila Ashton by Jozoor
Reflect your personality and style with Camila Ashton, a relaxed script and sans serif font duo. Together, they create a harmonious blend that is perfect for eye-catching logos, branding, and craft projects.
Pinky Melon by Abo Daniel Studio
Pinky Melon is a beautiful combination of a handwritten script and a sleek sans-serif font. This pairing achieves a delightful balance between sophistication and simplicity. Whether it's for wedding invitations, upscale branding, or any other creative project, this font duo effortlessly infuses elegance into your designs.
More Summer by Hoperative Design
More Summer is a fun and playful font duo with a stylish script and serif display font. This typeface exudes a sense of freshness and charm, making it perfect for creating adorable and captivating designs that capture the essence of summer.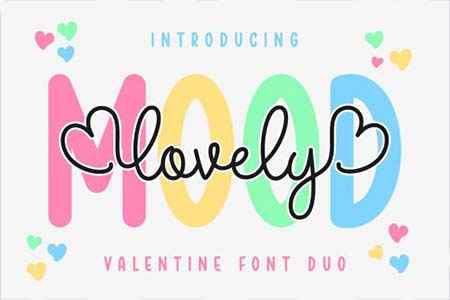 Lovely Mood by Hoperative Design
Lovely Mood is a lovely and cute font duo with two styles – script monoline and sans display. Influenced by the essence of Valentine's Day, this font duo is the perfect choice for the celebration of love, as well as for other designs that seek a touch of romance. Its smooth, flowing letters will bring an air of romance to your creations.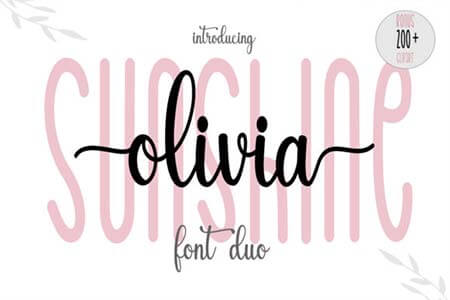 Sunshine Olivia by Fillo Graphic
Elevate your designs with Sunshine Olivia. This versatile and stylish duo of handwritten fonts combines a casual script with a clean sans serif. It's the ideal choice for adding a personal touch to tumblers, keychains, and other delightful gift items. Stand out from the crowd with this elegant and customizable font.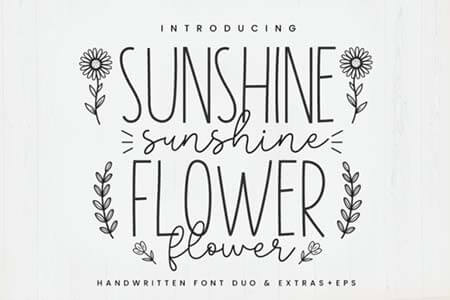 Sunshine Flower by Manjali Studio
Sunshine Flower is a handwritten script and tall sans serif font duo that captures the essence of childhood imagination. With its gentle curves and simple lines, it is ideal for cheerful and whimsical projects.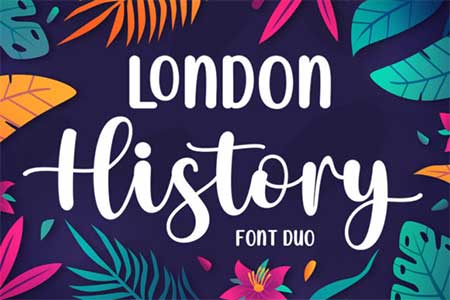 London History by Attract Studio
Add a sweet touch to your designs with London History. This beautiful handwritten font duo includes a script font with lovely flowing letters that is perfect for creating designs.