Discover the Best Beach Fonts for Summer Designs
Albemarle PR may earn a small commission for our endorsement, recommendation, testimonial, and/or link to any products or services from this website. Your purchase helps support our work.

Beach fonts evoke happy memories of vacations spent at the coast with anything from graceful curves that conjure up the serenity of sun-kissed shores to energizing tropical moods. Capture the essence of seaside living with beach fonts that embody summer. These typefaces convey tranquility and nostalgia with their laid-back attitude and vintage appeal.
What Are Beach Fonts for Summer and Tropical Designs?
Beach fonts are inspired by coastal landscapes, oceans, or beach themes. The following aspects of coastal living are represented by beach fonts when implemented in beach-themed designs:
Fun and Playfulness:
Beach fonts perfectly reflect the carefree and happy atmosphere of beach life. They are embellished with energetic handwritten letters, classy flourishes, and whimsical elements.
Casual and Relaxed Vibe:
Popular beach fonts offer a relaxed, easygoing vibe. They mimic the imperfect flow of handwriting or brush strokes. Summertime tropical designs are ideal for fun handwritten font styles.
Nautical and Coastal Themes:
Beach fonts may include symbols and ornaments related to maritime themes. Ropes, anchors, ship wheels, and waves are a few examples. For retro posters, signs, logos, and other graphics, several interesting typefaces come in clean and rough versions.
Vintage and Retro Style:
Beach fonts reflect the style of vintage beach signs, old postcards, and vintage travel advertisements. With their imperfections and aged textures, they give coastal designs depth and interest.
The Importance of Beach Fonts in Design
Beach fonts define the brand identity, shape the tone and mood of the design, and communicate emotions.
For instance, you might choose beach fonts that express adventure, excitement, and relaxation if you are creating a summer-themed project, like an invitation to a beach party. However, you should select fonts that suggest exclusivity and refinement if you are creating a logo for a beach resort.
You can engage with your audience and effectively convey your message using beach fonts.
Tips for Choosing the Best Beach Fonts
You should think about font style, legibility, compatibility, and brand image while selecting the ideal beach font for your summer project design.
Summer Fonts for Branding
If your brand is playful and fun, you might want to use bold typefaces like the font duo California Sunset by Salt & Pepper Fonts. If your brand is more sophisticated, you might want to use elegant beach fonts like Gelato by Graphix Line Studio or Unlocking Your Dreams by Roland Hüse Design.
Fun Fonts for Summer-Themed Projects
If you are making a creative summer design for your home or a gift, the font duo Aloha March by DMStudio is perfect. For nautical signage, you might want to use Sugar Boats by Vintage Type Company or The Old Navy by Pasha Larin. If you need a fun font to decorate t-shirts that scream summer vibes, choose a beautiful script font like Paradise Thoughts by Worn Out Media.
Examples of Best Beach Fonts for Summer Designs
Find a stunning selection of widely used beach fonts in a variety of typographic styles. These incredibly popular beach fonts are ideal for designing projects with a summer vibe.
Click on the links below to view each of the 16 premium beach fonts for designers:

1. Miami Vibes
2. Gelato
3. California Sunset Script
4. Seaside Vineyard
5. Old Navy Grunge
6. Aloha March
7. Palm Canyon Drive
8. Boardwalk
9. Palmino Beach
10. Anyer Beach
11. Ocean Six
12. Charcuterie Sans Inline
13. Paradise Thoughts
14. Unlocking Your Dreams
15. Salt & Sea Script
16. Sugar Boats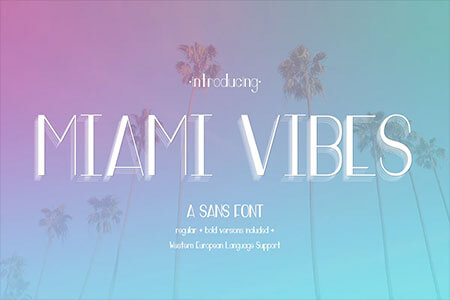 Miami Vibes by Beck McCormick
Elevate and enhance vintage projects with Miami Vibes, a clean, Art Deco style sans font.
Gelato by Graphix Line Studio
Gelato undoubtedly makes a statement with its elegant and expressive details. This handwritten script font with a timeless style is perfect for old-style signs.
California Sunset by Salt and Pepper Fonts
California Sunset is a lovely font duo with stylistic alternates. It features a bold typeface with layered sunset effects and a script with a relaxed vibe.
Seaside Vineyard by Dxxb

Seaside is a simple and playful handwritten font that features uppercase letters with decorative curls. It is the perfect narrow font for greeting cards.
Old Navy by Pasha Larin
Old Navy is a must-have beach font for creating bold headlines with depth and visual interest. It is a popular choice for military-style designs.
Best Sites for Downloading Fonts
Enjoy the benefits of saving time, stress, and money on thousands of commercial fonts with our list of trusted sites for downloading fonts.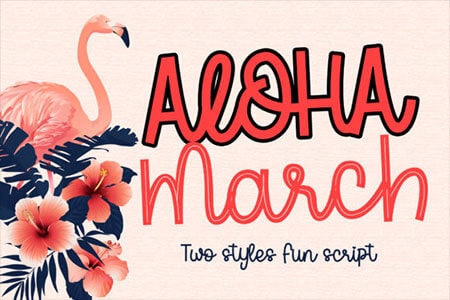 Aloha March by DMStudio
Aloha March is a must-have beach font with two different styles. It is the perfect font for creating bold headlines with a tropical feel.
Palm Canyon Drive by Retro Supply
Palm Canyon Drive is a classic monoline script font inspired by mid-century Hollywood, California. It is the perfect choice for retro signage, logos, and invitations.
Boardwalk by KA Designs
Boardwalk, a fun handwritten retro font, will add character to old-style beach theme designs. It includes uppercase letters with stylistic lines.
Palamino Beach by Joanne Marie
Catch the eye of your audience with Palamino Beach, an authentic paintbrush font with textured brush strokes. Use this summer font for trendy branding projects and summer-themed designs.
Anyer Beach by String Labs
Explore endless possibilities with Anyer Beach, an elegant and flowing handwritten script font.
Ocean Six by Drifter Studio
Create striking vintage beach designs with Ocean Six, a bold typeface with rough versions. It features acrylic brush strokes that add depth and visual interest to tropical designs.
Charcuterie Sans by Laura Worthington
Add tons of nostalgic character to your beach designs with Charcuterie Sans. Rough and stylistic characters make it a go-to font for bold vintage designs.
Paradise Thoughts by Worn Out Media
Create stunning designs with Paradise Thoughts, a stylistic script font with textured letters.
Unlocking Your Dreams by Roland Hüse Design
Unlocking Your Dreams in an expressive handwritten font that works beautifully for romantic and casual designs.
Salt and Sea by Beck McCormick
Fall in love with Salt and Sea, a wispy and feminine script font. Make awe-inspiring designs that stand out with lovely swashes.
Sugar Boats by Vintage Type Company
Add a touch of elegance to vintage designs with Sugar Boats, a timeless serif font inspired by Victorian & Art Deco typefaces.
Tips for Pairing Beach Fonts
Once you have chosen your beach font, it's time to enhance it with complementary fonts, colors, and textures.
Typography Combinations
Pair your beach font with an easy-to-read sans serif font or use a combination of summer font duos to convey your message.
Combine with Beach Colors
Infuse your designs with warmth and vibrancy with beach colors inspired by natural elements such as the sky, ocean, and coastal landscapes.
Add Textures and Effects
Create a beachy feel that adds visual interest to your summer projects. For instance, you can include textures that represent sand or weathered surfaces like sun-bleached wood. To create a sense of movement in your designs, add ripples and wave-like patterns.
Create Simple Designs
Certain beach fonts feature intricate embellishments and symbols, but it is advisable to maintain a simplistic design and utilize these additional elements sparingly.
Beach fonts are a great way to imagine the feel of summer, the calm of beachgoers, and the sunshine. Beach fonts can boost your summer designs, whether you are creating a logo, poster, or invitation.
So begin the summer fun by grabbing your sunglasses and sunscreen.