16 Back-to-School Fonts for Middle School
Albemarle PR may earn a small commission for our endorsement, recommendation, testimonial, and/or link to any products or services from this website. Your purchase helps support our work.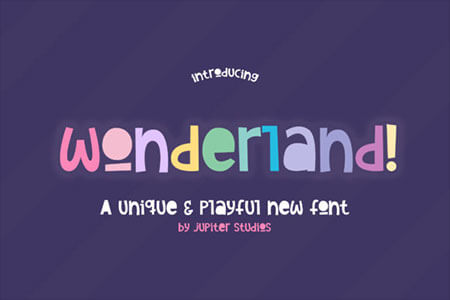 Wonderland by Jupiter Studio

Wonderland is a must-have teacher font for creating bold headlines with a relaxed and cheerful vibe.
Back to School by Goodigital

Back to School is a versatile handwritten serif font that is perfect for a back-to-school font collection for teachers and designers.
Hail Mary by Salt and Pepper Fonts

Create casual and unique designs with Hail Mary, a handmade sketch font duo with playful characters embellished with stripes.
Best Sites for Downloading Fonts
Enjoy the benefits of saving time, stress, and money on thousands of commercial fonts with our list of trusted sites for downloading fonts.
Helium by Jupiter Studio

Helium is a cute serif font that is perfect for creating cheerful and playful classroom designs.
Candy Dino by Perspectype
Candy Dino is a versatile doodle font that is perfect for a back-to-school font collection for teachers and designers.
Attracted Tuesday by Keithzo (7NTypes)

Attracted Tuesday is an abstract font that is funky and playful. Its mix of quirky shapes and star embellishments will make any design unique.
Signature Blend by Browncow Creatives

Signature Blend transforms designs into artistic works with its unique and detailed sketch letters.
Love It by Dani (7NTypes)

Love It, a playful and chunky serif font, is perfect for back-to-school crafts, posters, and more.
Original by OH Letter Studio

Original is a fun handwriting font that features hair-thin lines and whimsical curls. It is well suited for journaling, posters, and craft designs.
Hazelnut by KA Designs

With its fat and rounded letters, Hazelnut is a unique and playful handwritten font for bold headlines.
Mini Zombie by Salt and Pepper Fonts

Mini Zombie is a fun and grungy font with quirky letters that are embellished with cute symbols.
Holiday Planner by Deedeetype

Holiday Planner is a funky and playful teacher font. Some lowercase letters include underlines that add visual interest to designs.
Dumbfounded by Jupiter Fonts

Dumbfounded is a funky and playful font duo that can be layered to create a casual handwriting style.
Sugar Donut by DMStudio

Sugar Donut is a fun and playful cartoon-like font that is perfect for classroom designs and crafts. Letter variations have dots, lines, hearts, and dashes.