14 Beautiful Monoline Script Fonts
Albemarle PR may earn a small commission for our endorsement, recommendation, testimonial, and/or link to any products or services from this website. Your purchase helps support our work.

What Are Monoline Script Fonts?
Monoline script fonts are widely popular and can be seen in various designs such as minimalist logos, wedding invitations, and greeting cards. These fonts are characterized by their consistent thickness and clean look. They are a popular choice for both print and digital designs because they are easy to read and provide a strong visual impact.
They are incredibly versatile and have the ability to add a touch of elegance, sophistication, and style to any design, effortlessly elevating its visual appeal and creating a lasting impression. With their versatility, they can seamlessly blend into any aesthetic, whether it be modern, minimalist, or classic.
Pairing Monoline Script Fonts
Create minimalistic and luxurious designs by pairing them with sans-serif fonts. To create captivating and imaginative headlines, consider overlaying them with bold, blocky fonts. This technique adds a touch of playfulness and visual interest, making your headlines stand out and grab attention.
Examples of Beautiful Monoline Script Fonts
Find a stunning selection of widely used monoline script fonts that are a perfect fit for your next project.
1. Silent Caroline
2. Raleigh Modesto
3. Kimberley Waterfall
4. Beach Script
5. Gardenia Summer
6. Sunshine Valley
7. Westhamp
8. Daily Update
9. Autumn Chant
10. Balcony
11. Bellarina
12. Dihlova
13. Amalina
14. Degres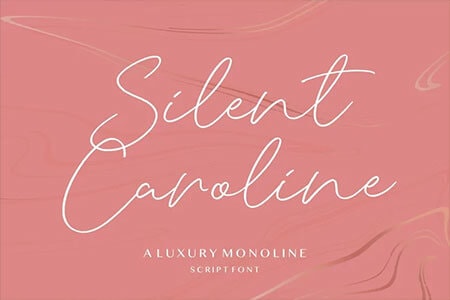 Silent Caroline by Letterative Studio
Silent Caroline is an expressive monoline script font that features relaxed curves and thin, flowing lines. 
Raleigh Modesto by Ahweproject
Make a statement with Raleigh Modesto, a handwritten script font with beautiful flowing letters. 
Kimberley Waterfall by Balpirick
Kimberley Waterfall is an elegant and refined script font that features delicate curves and graceful lines. 
Beach Script by Roland Hüse Design
Create sleek and stylish logos with Beach Script, a relaxed monoline script font with a contemporary and trendy feel.
Gardenia Summer by Balpirick
Add a personal touch to your designs with Gardenia Summer. This expressive script font features handwritten characters with an energetic rhythm. 
Best Sites for Downloading Fonts
Enjoy the benefits of saving time, stress, and money on thousands of commercial fonts with our list of trusted sites for downloading fonts.
Sunshine Valley by Letterhend
The design possibilities are endless with Sunshine Valley, an elegant script font with dreamlike lines. It features graceful glyphs and swashes.
Westhamp by Typographic27
Westhamp is a modern monoline script font that is bursting with character. Use it for minimal logos and high-end branding.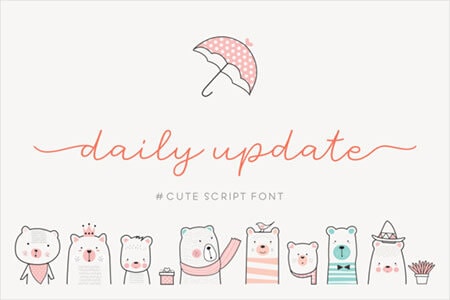 Daily Update by Situjuh
Daily Update is a lighthearted and cheerful font that is perfect for designing children's book covers or other fun projects. This cute script font features uniform letters and is easy to read.
Autumn Chant by Roland Hüse Design
Add a charming twist to designs with Autumn Chant. This beautiful script font features flowing letters with a relaxed feel. 
Balcony by Heinzel Std.
Balcony is a modern signature font with a simple and clean aesthetic. It features smoothly connected letters and delivers a balanced and sophisticated look.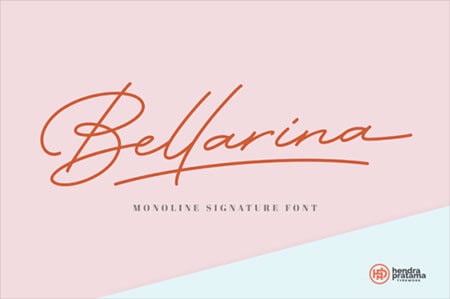 Bellarina by Hendra Pratama
Bellarina is a must-have signature font that is perfect for adding excitement and flair to branding projects.
Diahlova by Azkara Studio Co.
Dihlova, a playful monoline script font, is full of whimsy and love. Playful swashes with hearts make it a perfect choice for romantic designs.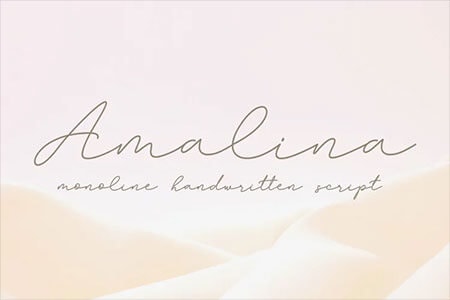 Amalina by Subectype
Add an organic, personal touch to wedding invitations and other romantic designs with Amalina. This lovely script font is very feminine and elegant. 
Degres by Letterzhe
Transform your designs with Degres, a beautiful monoline script font with elegant ligatures and alternates. This delicate and flowing font pairs well with bold headline fonts.