14 American Flag Fonts for Fourth of July
Albemarle PR may earn a small commission for our endorsement, recommendation, testimonial, and/or link to any products or services from this website. Your purchase helps support our work.

Merica by Hans Co

Merica elevates and enhances Fourth of July designs with its bold patriotic stars, stripes, and city skyline.
USA Day by Airotype

USA Day is a decorative font inspired by the United States flag. Use it to create designs with star accents and stripes.
USA Nation by Hans Co

Create bold and stylistic patriotic designs with USA Nation, a block font with stripes and stars.
Best Sites for Downloading Fonts
Enjoy the benefits of saving time, stress, and money on thousands of commercial fonts with our list of trusted sites for downloading fonts.
America by Numnim Type

Create patriotic designs that make a statement with America, a classic font with stars and stripes.
PN Long Island Independence by Illustration Ink

Create casual and unique designs with PN Long Island Independence, an attractive serif font with playful characters embellished with stars.
Captain of America by Helotype

Captain America is a versatile patriotic display font that is perfect for cartoon-like Fourth of July and hero designs.
Patriot by Zimages

Patriot, an elegant patriotic font with stars and stripes, is perfect for classic Independence Day, Memorial Day, veteran, and election theme designs.
United Star by Mozatype

Enhance Independence Day designs with United Star, a classic American flag style font with strikingly bold stars and stripes.
The USA by Salt and Pepper Designs

The USA is a must-have Fourth of July font for creating bold headlines with a relaxed and cheerful vibe.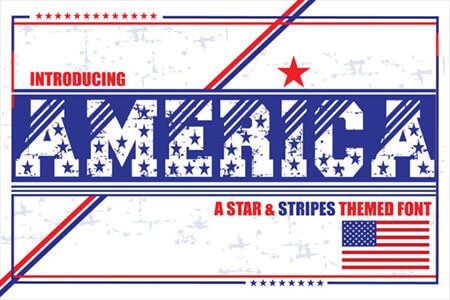 America by KtwoP

With its weather-beaten textured characters, America is a must-have headline font for patriotic and sports designs.
America by Peliken

America is an abstract font that is funky and playful. Its mix of solid colors, stripes, and star embellishments will make any design unique.
We Love USA by Dito (7NTypes)

We Love USA, a playful and chunky serif font featuring the American flag, is a perfect addition to a patriotic font collection.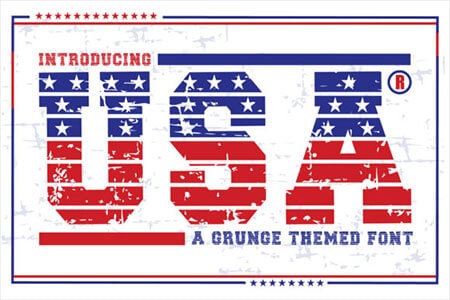 USA Grunge by KtwoP

USA Grunge is a rugged American flag font with bold serif letters embellished with stars and stripes.
Charleston Allegiance by Illustration Ink

Celebrate America with Charleston Allegiance, a decorative serif font with patriotic star and stripe patterns.