11 Athletic Fonts for Sports Designs
Albemarle PR may earn a small commission for our endorsement, recommendation, testimonial, and/or link to any products or services from this website. Your purchase helps support our work.

Athletic fonts are crucial in creating an impactful visual identity for sports teams and organizations. Many athletic and collegiate fonts have a vintage or retro feel, which can add a sense of nostalgia among students, alumni, and supporters. They are versatile due to their simple block letters and geometric appearance. This makes them a popular choice for athletic and collegiate gear.
Athletic Fonts for Commercial Use
These athletic fonts are perfect for athletic clothing, school sports posters, and college designs. For more inspiration, take a look at our modern athletic block fonts with a feminine flair. 
Click on the links below to view each of the sports fonts for athletic designs:

1. College
2. Varsity Team
3. College Block
4. Vintage College
5. Outline Varsity
6. Varsity Design
7. Collegiate
8. JP Play Ball
9. Varsity Football Team
10. Stacked College
11. Uni North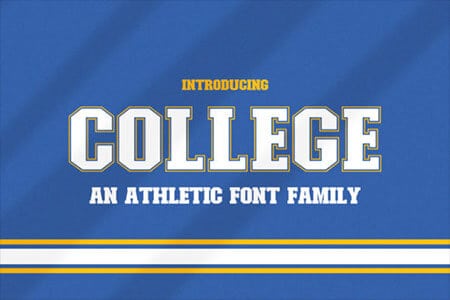 College by Salt and Pepper Fonts

Evoke a sense of tradition and excellence with athletic fonts such as College. This bold font has blocky lettering with a vintage or retro feel.
Varsity Team by Don Marciano
Varsity Team is the perfect font to make an athletic design look bold, energetic, and powerful.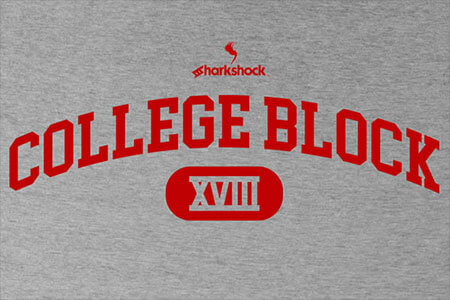 College Block by Sharkshock
Capture the attention of fans with College Block, a bold athletic font that emphasizes strength, speed, and agility.
Best Sites for Downloading Fonts
Enjoy the benefits of saving time, stress, and money on thousands of commercial fonts with our list of trusted sites for downloading fonts.
Vintage College by Fonts and Fashion
Vintage College is a clean and easy-to-ready slab serif font that is perfect for high school and university sportswear designs.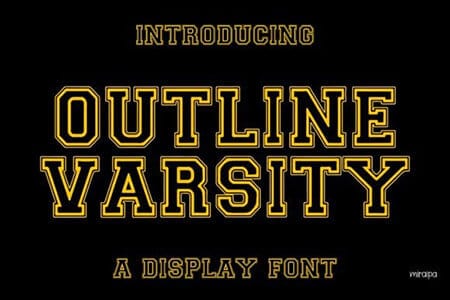 Outline Varsity by Miraipa
Bold athletic fonts such as Outline Varsity can help make a name and number of a player on a jersey stand out.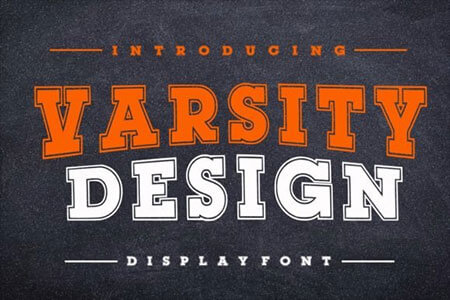 Varsity Design by Infinity Art Studio
Capture the attention of fans and supporters with a visually appealing and engaging font such as Varsity Design.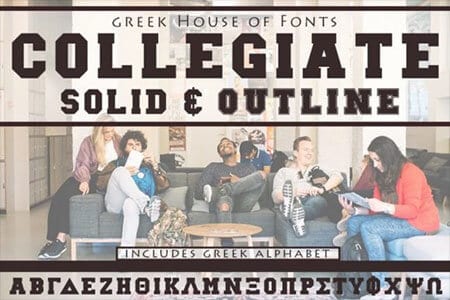 Collegiate by Phelan Riessen
Create a strong sense of pride and belonging with Collegiate, a versatile and visually appealing athletic font.
JP Play Ball by SVG Cuttables
Reflect the style and personality of a school or sports team with JP Play Ball, a retro-styled athletic font.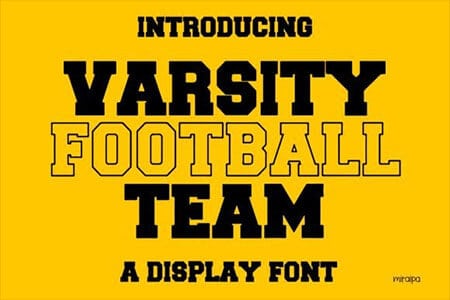 Varsity Football Team by Miraipa
Create an impactful visual identity for sports teams and organizations with Varsity Football.
Stacked College by KtwoP
Make your athletic designs stand out with Stacked College, a trendy font with a stacked look.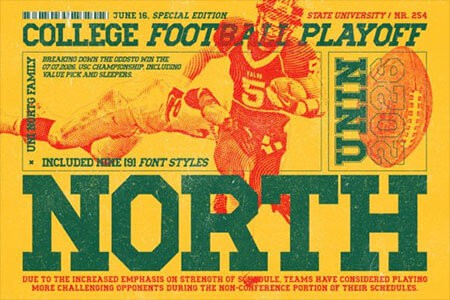 Uni North by Leonard Posavec
Create a sense of professionalism for athletic organizations with Uni North, a vintage and slab serif font with nine styles.